✕
Galaxy Digital had reservations. The New York–based company, which specializes in digital assets and blockchain technologies, had found a 36,000-square-foot office in Battery Park City to replace its SoHo headquarters and accommodate rapid growth. Yet while commissioning Young Projects to oversee the new office design and buildout in late 2021, its top executive fretted that moving to a neighborhood associated with investment banking could suggest that Galaxy was just another voice in the crowd, rather than a leader in the emerging business of cryptocurrency.
"Every day we're not in the bigger space is a day of lost community," firm founding partner Bryan Young recalls Galaxy founder and CEO Mike Novogratz saying, "but we also need to aim for an excitement that's unlike a financial institution." For this reason, the architects began distinguishing Galaxy from its workaday neighbors. Young Projects and its lighting collaborator, fellow Brooklyn-based studio The SEED, were given six weeks to finalize a concept with a completion date of mid-2022.
Young Projects, a 2020 Record Design Vanguard firm, is known for an exploration of aesthetics and materials in its residential and commercial interiors and custom house projects. In 2021, the firm completed an apartment in nearby Tribeca using a series of plaster panels that had been cast on recycled furniture foam held in tension by hand-bent metal rods. Installed on the ceiling, the panels evoke historical ornamentation like plaster rosettes and tin ceilings yet seem avant-garde. When Young showed it to Novogratz, his client likened the ceiling to cryptocurrency's combination of the familiar and the futuristic. By adapting such existing research to the Galaxy Digital interior, the architect was able to create an aura of strangeness at the project's necessary warp speed.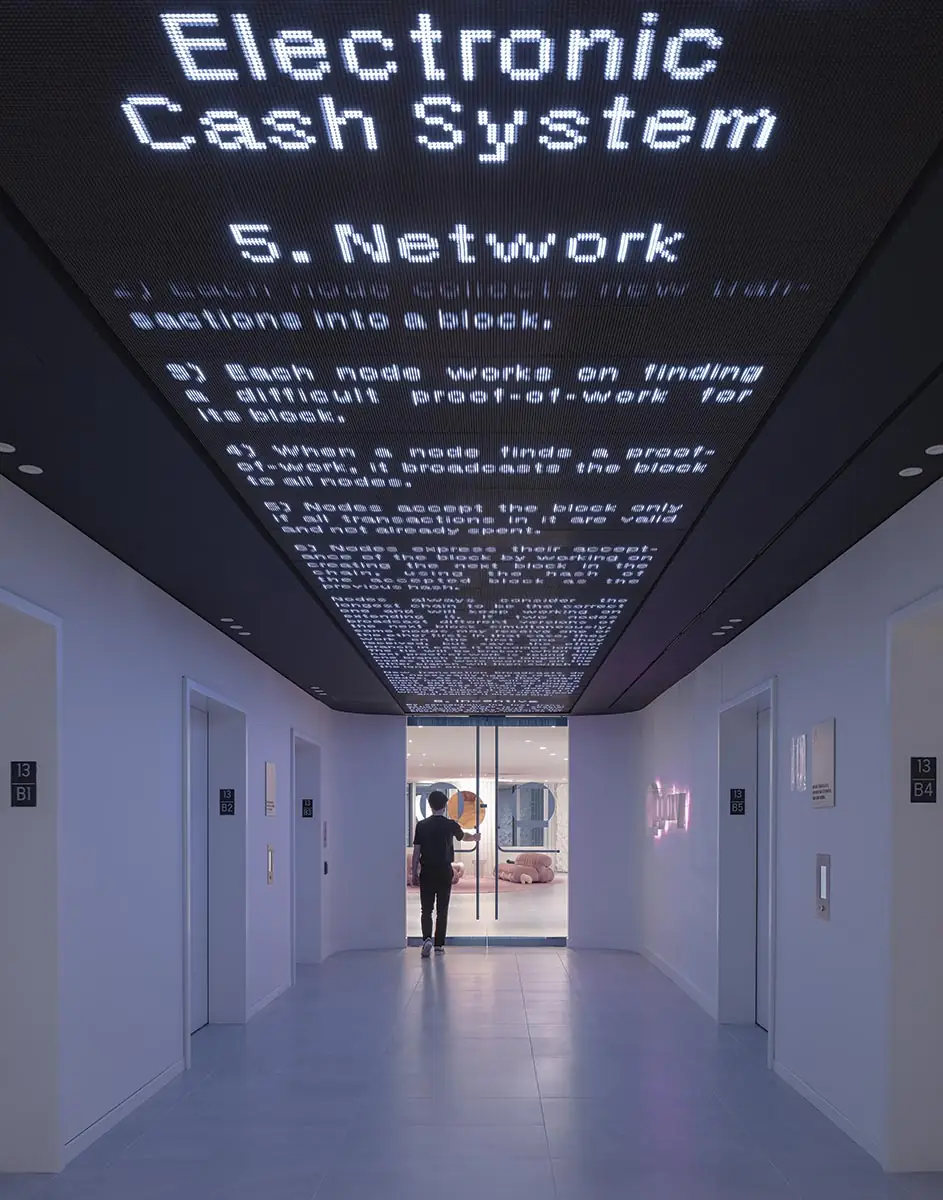 1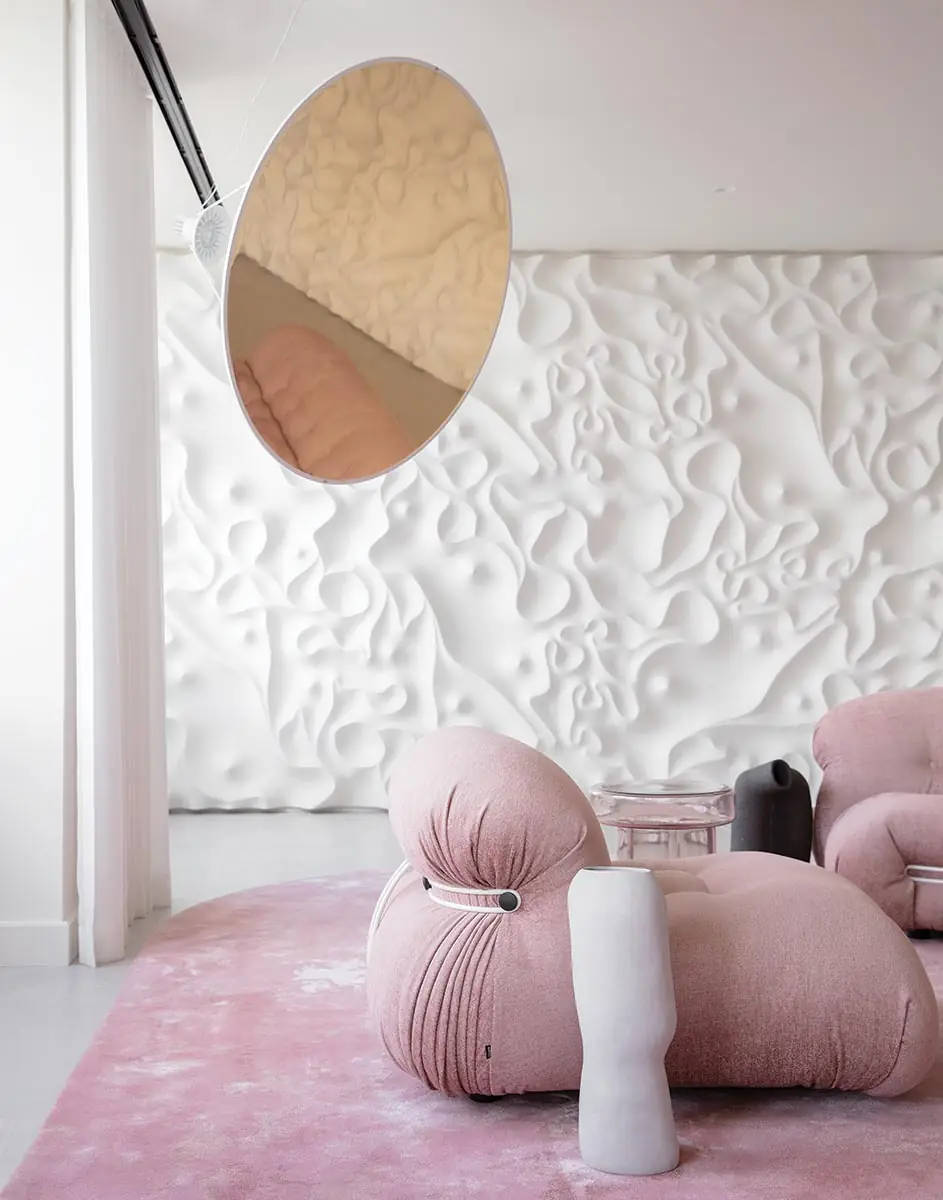 2
A lively media ceiling in the elevator lobby (1) leads to a surprisingly soft and tactile reception area (top), subtly illuminated by backlit mirrors (2) and recessed fixtures. Photos © Naho Kubota, click to enlarge.
Young identified the elevator lobby and reception as the best spaces for unique expression, comparing them to a threshold, where occupants may check their preconceptions of financial services. The elevator lobby initiates this mental reset with a low-resolution media ceiling by The SEED on which text from cryptocurrency's founding document (a white paper about Bitcoin released in 2009) traverses the screen in a Star Wars–style crawl.
For the walls flanking the reception area, the architects developed a proprietary surface of plaster panels whose valleys and ridgelines connect, no matter how each component is rotated. According to Golsana Heshmati, founder of The SEED, this tactile surface is illuminated by low-output LED wall washers emitting a 3000-Kelvin glow; the luminaires are spaced widely apart to make sure their presence does not compete with the sculptural walls, while still calling attention to the 6-inch depth of the panels.
Pink furnishings dot the reception area for an additional unexpected touch. Also surprising are three suspended round backlit mirrors, which could be seen as figurative planets, providing ambient light. Heshmati describes them as an infusion of human scale to mitigate the expansiveness of the seating area. She adds that the mirrors underscore Galaxy's interest in community, because "they emphasize the importance of every person and of face-to-face communication."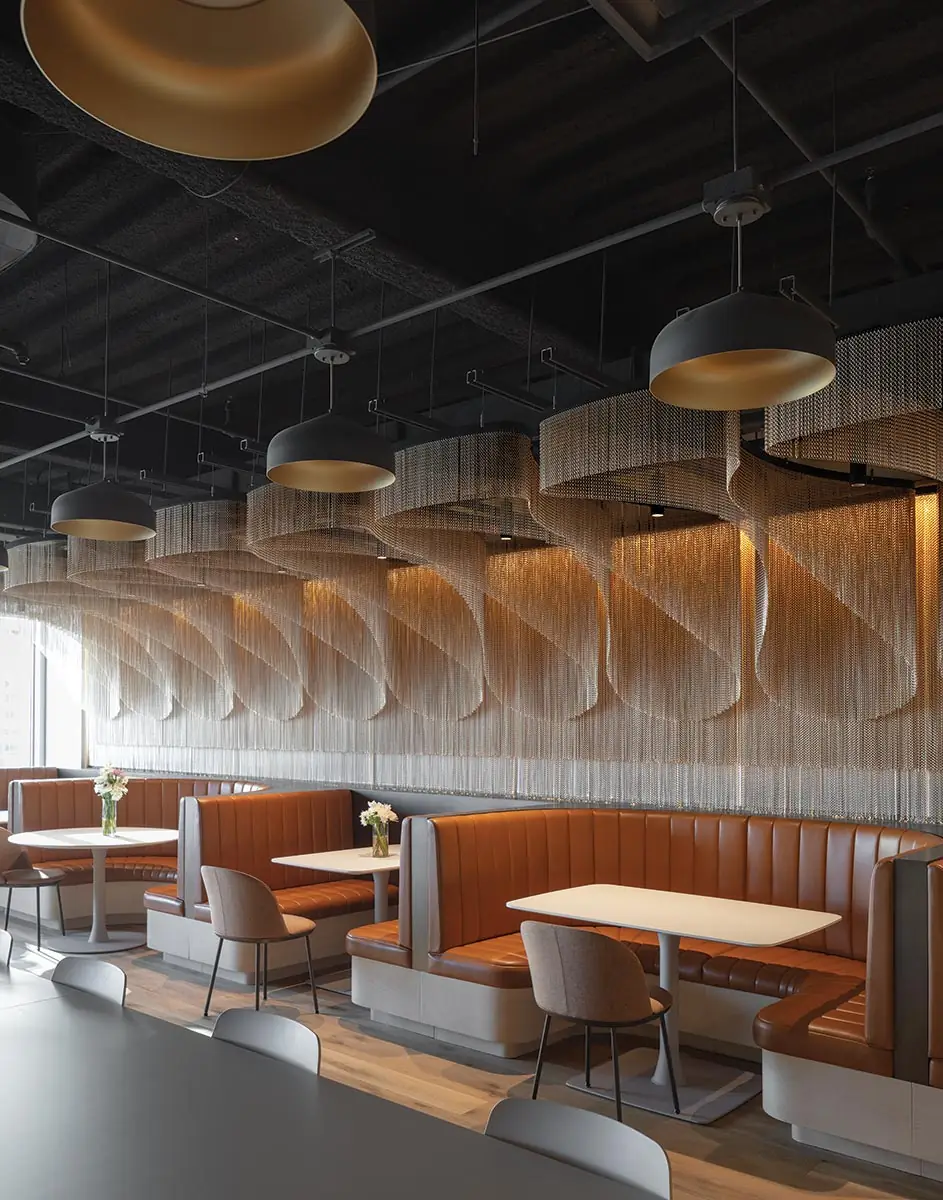 In the café, bold pendants are offset by discreet ceiling mounts concealed by draping chains. Photo © Naho Kubota
Prior to Galaxy's occupancy, the Battery Park City office had been recently renovated for a solutions-driven data-science and clinical-research company. For the workstations, offices, and collaboration spaces located beyond reception, Young Projects and The SEED maximized reuse of the resources that were left behind. Both studios treated these interiors as opportunities for the connection and exchange that had been lacking in the SoHo headquarters. Young explains that his team employed sinuous glass partitions and a variety of carpet tiles to encourage staffers to use interior pathways for circulation as well as gathering. And while Heshmati notes that the lighting designers left much existing overhead infrastructure intact, they linked long linear tubes containing wide-aperture LEDs into graphic ceiling elements for wayfinding. Similarly, in the office's central cafe, rows of pendant lights interwoven with aluminum linked chains simultaneously hide ceiling-mounted systems and distinguish banquette and bar seating from other vignettes. "There's a very explicit difference between how you understand the ceiling versus how you understand the plan," as Young explains. "The plan is about movement, whereas the ceiling is about spatial definition. These are ideas about promenade and interaction that perhaps you could manifest only in a space like a crypto office."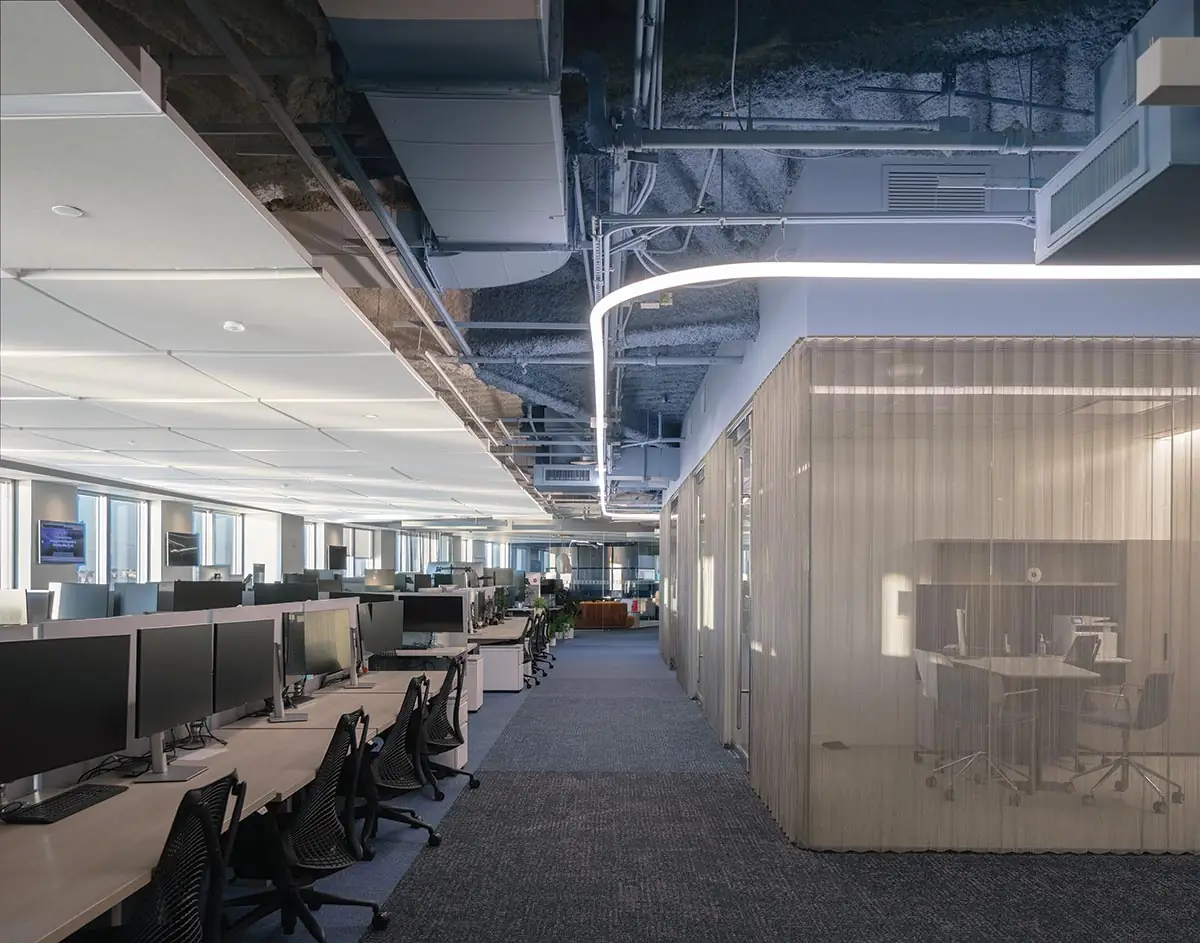 3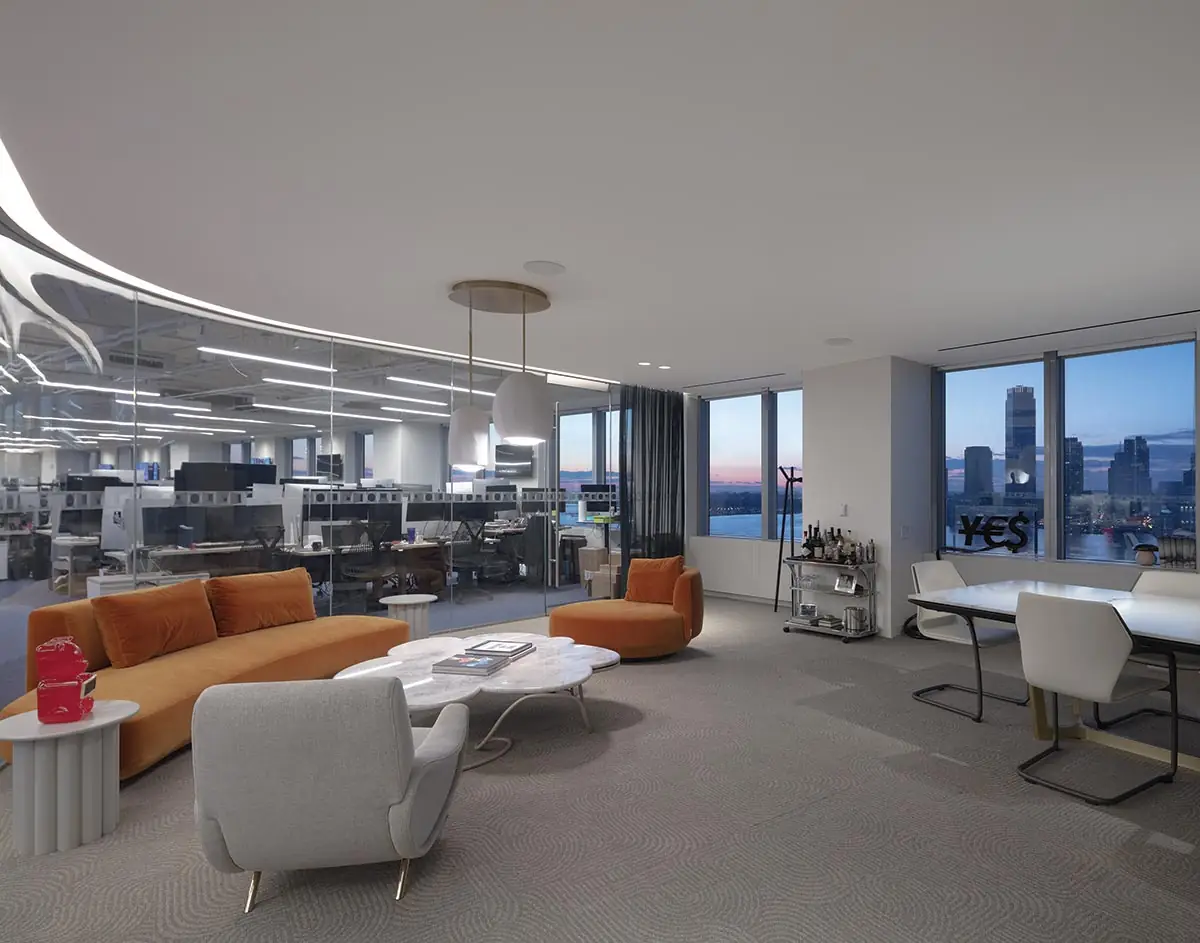 4
Curved glass walls and linear tube lights enliven workspaces (3 & 4). Photos © Naho Kubota
Click plan to enlarge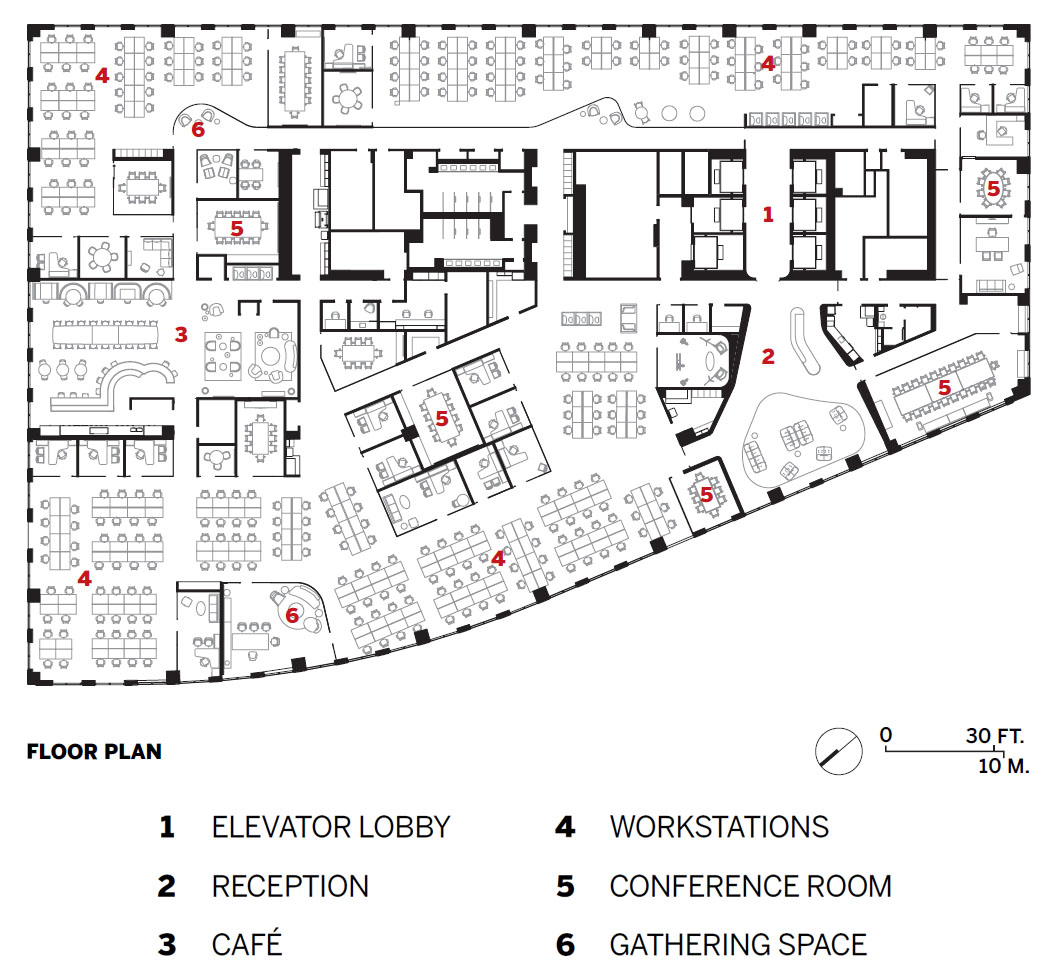 Credits
Architect:
Young Projects — Bryan Young, design lead; Mallory Shure, partner in charge; Udoiwod Udoiwod, Billy Hutton, Daniel Garcia, Caleb Ehly, Isabella Calidonio, Benjamin Smithers, Joanne Yau, project team
Engineers:
Robert Derector Associates (m/e/p/fs)
General Contractor:
JRM Construction Management
Consultants:
The SEED (lighting designer); Once–Future Office (signage/wayfinding); Duggal Visual Solutions (signage fabrication)
Client:
Galaxy Digital
Size:
36,000 square feet
Cost:
Withheld
Completion Date:
December 2022
Sources
Hardware:
Ives; Dorma
Interior Finishes:
Fenix; Cambria; Casalgrande Padana; Tilebar; Stile/LVWood; Interface; The Rug Company; Rug Star; Tate; Fabricoil; Master Works
Lighting:
USAI; 3G Lighting; Artemide; XAL; Luceplan; Vode; Delta Light; Eklipse; Lutron
Furnishings:
Halcon; Haworth; OFS; Cassina; Miniforms; DDC; Bernhardt; Maharam; Knoll; KVADRAT; Muuto; West Elm; DWR; Davis